The 4 Quadrant Productivity Hack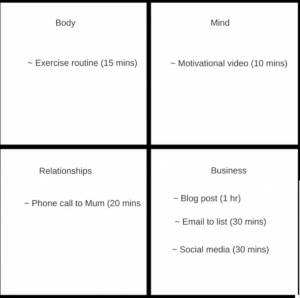 I don't have enough time!
This is one of the most common excuses that I hear from people of why they CAN'T start an online business, or that they aren't getting any real traction if they already have one.
I've even used it myself!
After all, most of us start an online business in their "spare time" while still holding down a job, and balancing work, family and lifestyle commitments is not an easy task right?
And starting an online business can take an awful lot of work, especially in the early stages while we are still learning and trying to get it up and running and making some decent money!
But the truth is that productivity and focus go hand in hand with success in our online business more than anything!
We all have 24 hours in a day, it's just how we use that time that matters.
One thing I have been utilising in my business and life lately is a very simple 4 quadrant productivity hack that has been getting some amazing results!
Check out this video and I will show you how it works!
Don't be fooled by the simplicity of this hack, it really does work and works really well!
Personally, I use a whiteboard that I enter my tasks on the night before, but it can easily be just put on a blank sheet of paper.
Try it out!
If you have any questions or comments leave them below.
To your freedom,
John W. Newman
Financial Freedom Warrior!
Money Worries Keeping You Awake At Night? Download The Ultimate Online Marketers Cheat Sheet Bundle And Build The Foundations Of An Online Business Without It Taking Up All Of Your Time Or Costing You A Fortune!